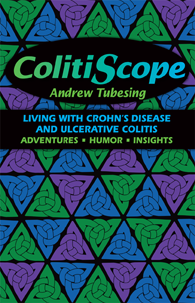 ColitiScope: Living with Crohn's Disease and Ulcerative Colitis
by Andrew Tubesing.
Insights and stories that chronicle many struggles common to IBD sufferers with suggestions, hope and humor added in for good measure.
ISBN 978-1-935388-00-5  $16.95
Colitiscope is a humorous adventure story about life with inflammatory bowel disease (IBD). Told through the eyes of an IBD patient,this book is a resource for pateints and their caretakers, as well as those who work with IBD patients. Humorouos and heartfelt, the personal stories in this book provide an enjoyable and moving way to learn about living with digestive illness. Colitiscope is filled with insights, observations, handy tips, and plenty of information on the disease and its symptoms and treatments—all told from a uniquely entertaining viewpoint.
Please visit www.colitisbook.com Thank you.
Return to Alberto Stone Works | DonaldATubesing.com