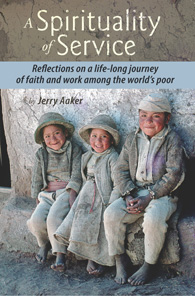 A SPIRITUALITY OF SERVICE:
Reflections on a life-long journey of faith and work
among the world's poor
by Jerry Aaker
ISBN:  978-1-935388-04-3                  $19.95
Available at Amazon.com—In both print and Kindle ebook format
Also available in ibook, Nook and Sony Reader formats
For quantity discounts please contact Pfeifer-Hamilton.
For more than forty years author Jerry Aaker and his wife, Judy, worked across the globe among people living in abject poverty. Through his work with Lutheran World Relief, Heifer International, Agros International and Church World Service, Jerry helped establish and manage sustainable development programs on five continents, from South America to Asia. He also organized numerous relief efforts in response to disasters and humanitarian emergencies across the globe.
In A Spirituality of Service Jerry shares his lifetime of spiritual insights, personal reflections and uplifting encounters, often recorded in his journal at sunrise in poor rural villages across the globe, as he meditated on Scripture and sometimes wondered, "What am I doing here?"  Not just another ten hour lecture about spirituality—this book is filled with deep wisdom, personal observations, honest questions and touching stories of generosity among people of great poverty but even greater spirit.
A Spirituality of Service can be used for personal learning, private devotions and meditation as well as for reflection and discussion in a group setting.  It's a useful tool for individuals engaged in exploring spiritual practices, and can also be a helpful resource for groups exploring the call to social, economic, and spiritual service—church groups, non-governmental organizations, book study groups and college classes.
Jerry invites you to walk with him and let his reflections stimulate your own as you wonder and wander on your own life-long quest for a glimpse of spiritual truth and how you can put it into action.
---
Availability
A Spirituality of Service:
Reflections on a life-long journey of faith and work among the world's poor
ISBN: 978-1-935388-04-3, 250 pages, $19.95
Available in both paper and ebook format at Amazon.com
Also available in ibook, Nook and Sony Reader formats
---

Can be ordered directly from the author (autographed upon request)
Jerry Aaker, mtaakers@3rivers.net, telephone: 406 842 7837
or the publisher:
Pfeifer-Hamilton Publishers, 8665 Airport Rd. Middleton, WI 53562, www.pfeiferhamilton.com
Quantity discounts are available from the publisher and the author.
---

Available at your local bookstore by special order.